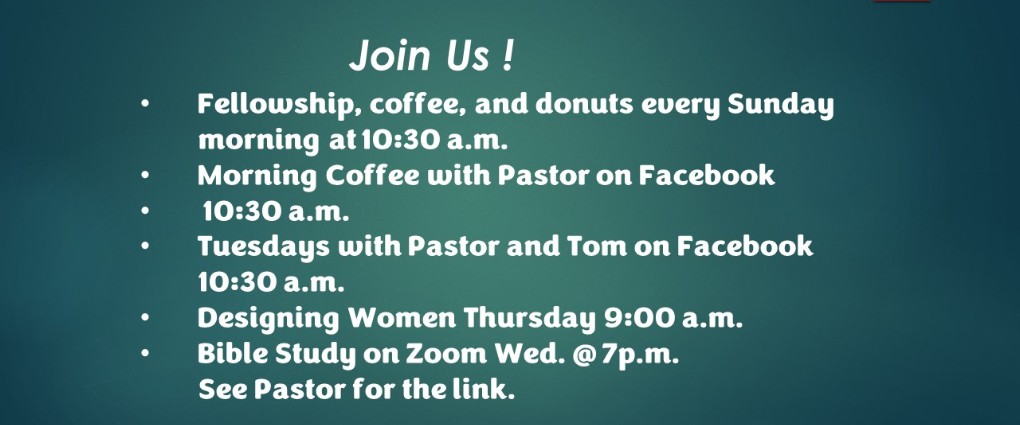 Calvary Lutheran Church
Pastor Bob Noble
1930 Bradner Rd.
Northwood, Ohio 43619
419-836-8986
Dear Friends in Christ,

This evening March 13,2020, in response to the spread of the COVID-19 pandemic, the Church Council of Calvary Lutheran Church has elected to cancel worship services beginning Sunday, March 15. Our desire is to return to regular worship on April 5, Palm Sunday. This was not an easy decision. Worship is a very important part of our life together in community. The Fellowship that we share is valuable to our lives as individuals working and living in the world. We as a people are renewed by the presence we share in each other's lives, taking this away was hard, but at the same time seemed to make the best sense for our congregation.All weekly activities are also cancelled at this time. The church building will be open from 9 am until 12 noon Monday through Thursday. The phones will be open at that time to address any needs or concerns the members of the congregation may have. The sanctuary will also be open at these times should you choose to come in and pray silently. Sunday school will be discontinued until the fall. We are hopeful to return with a full program at that time. Confirmation class is also completed for the year. Home visits have been suspended .We are in weekly contact with our homebound members to make sure all their needs are met. Hospital visits will be restricted to critical cases only. The prayer chain is still available to our members. Should you require prayer for any routine medical procedure please contact Carol Crosser 419-691-7941.Due to restrictions placed by the State of Ohio, all extended care facility (nursing home) visits have been suspended. We will be taking advantage of the use of technology during this time. Services will be live streamed on to our Facebook page beginning on March 15 at 10:30 am. After the live stream all services will be posted on Facebook and You Tube (for those who do not have Facebook) so the services and sermons can be viewed at your leisure. Should you have any difficulty in viewing our on-line presence please contact me at 419-215-5394 and we can walk you through the steps to make sure you are connected. This is a time of great fear and stress. We watch the news and hear reports and there just does not seem to be any good news. The greatest hope of all humanity resides in our hearts and minds and that is Jesus the Christ. Jesus promises to be with us until the end of the age. (Matthew 28).That promise is an enduring one that has seen our world through tough and challenging times before and will see us through this one as well. Breathe and remember whose you are. During this time of suspension, the work of the church will continue. The coming weeks are going to be fast paced and full of opportunities to reach out into our community. Watch our Facebook page for updates. Our goal is to keep everyone as informed as possible of our work in the world during this difficult time. This work of course will require funding as always. We will need your help during these weeks even though we are not meeting in community as normal. If you are not signed up for automated giving now is a good time to start. You can also download the automated giving app to your phone to make sure your weekly offering is given to God for His work in His world. You can also mail you. r offering into the office or stop by during the hours posted above very different place than is was even 48 hours ago. None of us has ever seen anything like this in our lifetimes. God is faithful. God is present. God and His Son Jesus will see us through these days by the guidance of the Holy Spirit. We will come out on the other side. We might not be unscathed or unchanged, but we will come through just like we always do on the wings of God's never-failing grace. God Bless you all. I am so proud to be your Pastor.
Firmly in His grip,
Pastor Bob
419-215-539
Office Hours: Monday-Thursday 9:00 AM - 12:00 PM