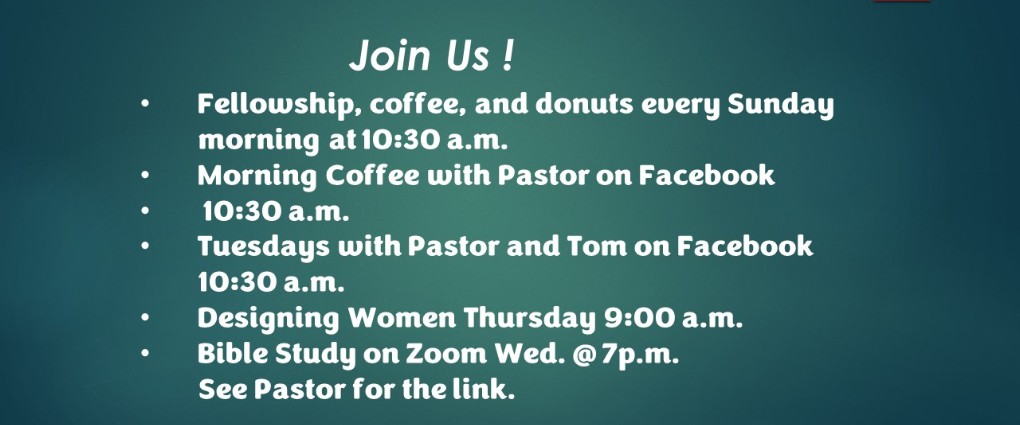 Calvary Lutheran Church
Pastor Bob Noble
1930 Bradner Rd.
Northwood, Ohio 43619
August 5,2020
"A View from The Empty Pew"

Hello, Tom Susor here bringing you
"A VIEW FROM THE EMPTY PEW"!

I come to you today to discuss the current dilemma facing our beloved congregation. As we are all aware, we are currently operating a closed sanctuary with media only access. This decision was made by the church council for the safety of our congregation as we weighted the pros and cons of "in person" worship. This was certainly not an easy decision to make, but council chose to choose the safety of all as the determining factor. Consequently, if Wood or Lucas County are classified as Red Level, we will remain under a video only format. This method of worship most assuredly tests our faith as any change in one core activity brings uncertainty and doubt.
In Hebrews10:23-25 23 Let us hold tightly without wavering to the hope we affirm, for God can be trusted to keep his promise. 24 Let us think of ways to motivate one another to acts of love and good works. 25 And let us not neglect our meeting together, as some people do, but encourage one another, especially now that the day of his return is drawing near. It is easy to drift away from a Christian life when our routine is altered. We need to "hold tightly without wavering" for God can truly be trusted.

These trying times have also created another hurdle to test our faith. There has been a loss of revenue as our in-person worship experience has been suspended. This issue could probably be corrected by merely resuming
in person worship. We could choose to value the finances of the congregation
over the safety of the parish' s truth.

Colossians 1:23 But you must continue to believe this truth and stand firmly in it. Do not drift away from the assurance
you received when you heard the Good News. The Good News has been preached allover the world, and I, Paul, have been appointed as God's servant to proclaim it.

We, as a Congregation, with our foundation in Christ, need to stop and realize we are never alone. As we move forward through this
unparalleled crisis, we must strive to keep our hearts, minds and decisions focused on Christ and trusting in his guidance. The Lord wants us to continue looking forward utilizing our situations to strengthen our faith and spread the word of our precious Savior.

Remember when you think that "someone should do something" that someone can be you!!!!!

Peace & Love - Tom Susor Sr.
Office Hours: Monday-Thursday 9:00 AM - 12:00 PM